Mastering the mental game will lead to greater success on the course as a player and teacher.  When you take this on-line golf psychology course you will be able to:
Turn pressure into your advantage
Keep confident after a bad round
Overcome your fears and anxiety about shooting a poor score
Be able to stay focused throughout a round
Be Inspired to practice and Compete
Take your best swings from the range to the golf course
Be certified by the International Golf Psychology Association (IGPA) as a golf psychology and mental game expert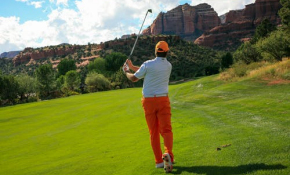 The International Golf Psychology Association (IGPA) is the world leader in teaching the mental game of golf and has created a golf psychology certification course called, Mastering Golf Psychology™.   This course is approved for continuing education by the PGA and the LPGA, which illustrates its merit and value to the teaching and playing of golf. The content of this course will help you to master the mental game and take your best game from practice to competition.
"This golf psychology on-line course is the best in the world"
~ Geoff Bryant, President of the United States Golf Teaching Federation
OUR EFFECTIVE APPROACH…
The 5 key mental game essentials are as follows:
Awareness: Being aware of your best and worst emotions is key to performing your best under pressure
Confidence: Being confident is king to playing your best under pressure.
Anxiety: You can turn anxiety and fear into your advantage.
Concentration:  Staying focused is key to playing our best
Motivation:  You need to be motivated to practice and compete
Each of these 5 sections have many videos, articles and applied exercises for you to master each component
The Mastering Golf Psychology course is designed by world-renowned sport psychologist Dr. Gregg Steinberg. This course is based upon his tournament golf experience as well as his experience of 30 years being the mental game coach for some of the greatest golfers in the world including PGA tour winners including Brandt Snedeker, Brian Gay and Chris Couch as well as NCAA champion collegiate teams and junior golfers. Golf Digest has ranked him as one of the world's greatest sport psychologists.
Chris Warner-The Harvey Penick Recipient 2014 and considered one of the world's great golf teachers states:
"The Mastering Golf Psychology course is incredible as it gives students a chance to take their game to a whole new level. It is very user friendly."
Keith Willocks-General Manager of Five Oaks CC and 25 years as a PGA professional states:
"Love this course and would highly recommend it to everyone!"
The IGPA on-line course is used for continuing education by the PGA and LPGA.